As a locally owned and operated company for over 80 years, we take our commitment to the community very seriously. In compliance with the Governor's updated Public Health Order, we will be opening our stores on Saturday, May 16th in Albuquerque and Santa Fe. For information on our Farmington locations please give us a call at 505-326-3393.
As we welcome you back into our stores, know that our ultimate priority is to keep our guests and team members safe. Our stores are conducting "Touch Point" cleaning techniques and our team members are practicing social distancing, taking their temperatures daily and wearing face coverings. Our warehouse is practicing contactless customer pick up as well as safe and clean contactless delivery. We thank you for your support and trust.
American Home Furniture and Mattress Temporary Store Hours
Monday - Saturday 11:00 AM to 7:00 PM
Sunday 12:00 PM to 6:00 PM
Customer Pick Up Hours - Warehouse Only
Wednesday - Saturday 10:00 AM to 6:00 PM
Sunday 11:00 AM to 5:00 PM
Call 505-761-3203 to Schedule Contactless Pick up
Deliveries - Also in accordance with the Governor's order, we are only delivering to your doorstep and your items will be in the manufacturers' original packaging. We will not be entering your residence.
Conctactless Pick Up - We can now schedule pick ups at 801 Comanche NE. Please call 505-761-3203 to schedule your pick up.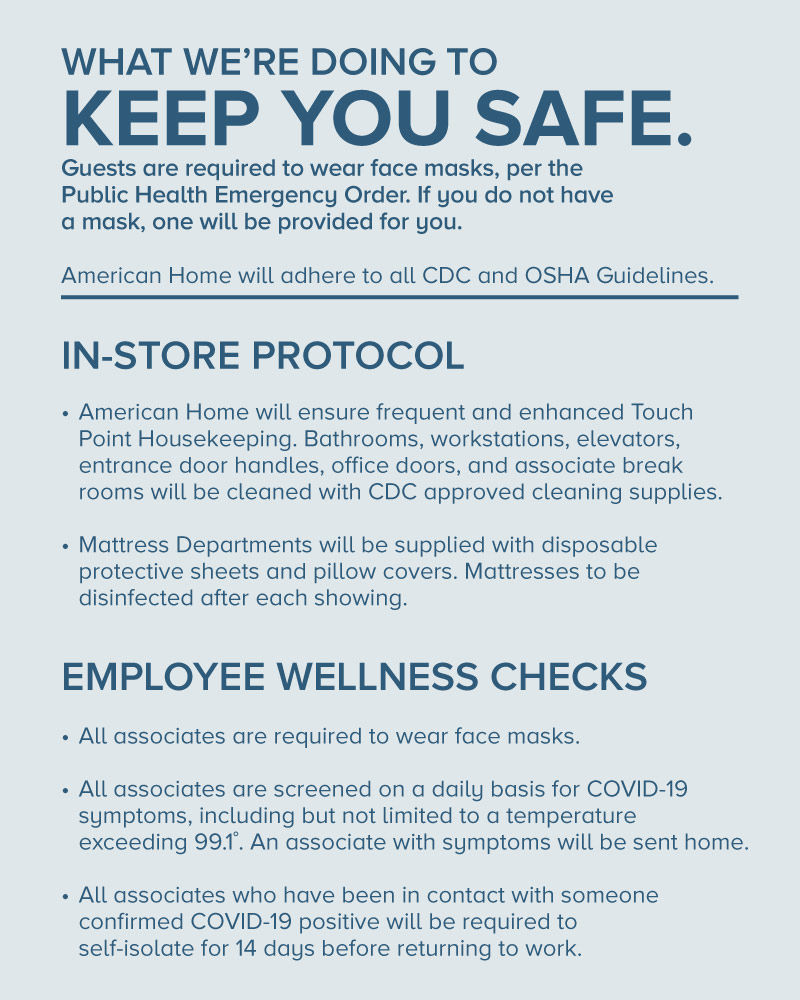 ---
FAQs
Q: Are you still able to deliver furniture in the current environment? Are you taking extra safety precautions?
A: Yes, we are still able to deliver to you during this time. We are offering Clean and Safe Curbside Delivery. We understand these are difficult times and we will do everything in our power to take care of your needs as well as your safety.
Q: Can I shop American Home Furniture and Mattress during the "Stay-at-Home" order?
A: Absolutely! We are more than happy to help you in any way we can. You can shop our store online, open 24 hours a day 7 days a week or You can message us and set up a Facetime, Zoom or Skype appointment with one of our design specialists. We'll take care of everything!
Q: Does your website have everything you carry in the store?
A: Currently our website has almost everything we carry in our locations, but we are adding new items all the time, so if you don't see something you'd like please message us? We are happy to send you pictures from the store with all the information you'll need.
Q: I have an issue with a piece of furniture I purchased from you, can I call Customer Service?
A: Our Customer Service Department will re-open as soon as possible. We are working directly with local Health Officials. In the meantime, you can send any question you have to us on our messenger app on the website or email us at [email protected]